from category "News"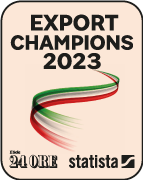 IIl Sole 24 Ore, in collaboration with the international company Statista, has drawn up a prestigious ranking, classifying Renna in 51st position with an export share of 85.94% of the company's turnover
We proudly announce Renna srl among the leading export companies for the year 2023 according to the renowned ranking of Il Sole 24 Ore and Statista.

LThe famous newspaper and Statista have compiled a ranking of 250 Italian companies that have distinguished themselves for excellence in the promotion and sale of their products abroad.

With over 85% of the export share, Renna ranked 51st.

This recognition is a way to celebrate Italian commitment, determination and excellence on international markets.

Thanks also to a strong digitization process, Renna has achieved significant sales targets abroad and has developed innovative strategies for entering new markets.

An extraordinary and very proud result for the Apulian company that has always believed in the superiority of Made in Italy, focusing heavily on sustainability.

Renna has always kept the quality level of its products high, also adapting to the needs of international customers.


With love Renna selects the best raw materials to bring to the table all the best of the Apulian and Italian sea and land tradition.
The company's core business is to promote Italian gastronomic excellence and culture in the world.
The commitment and dedication of a solid company team has led to great results and allows us to face new challenges and prospects for economic development.
The 2023 Export Champions award represents a further opportunity to interface every day with people in the food sector from all over the world.
Not just a challenge, but a great incentive for companies that intend to focus on innovation and quality to conquer new markets abroad.